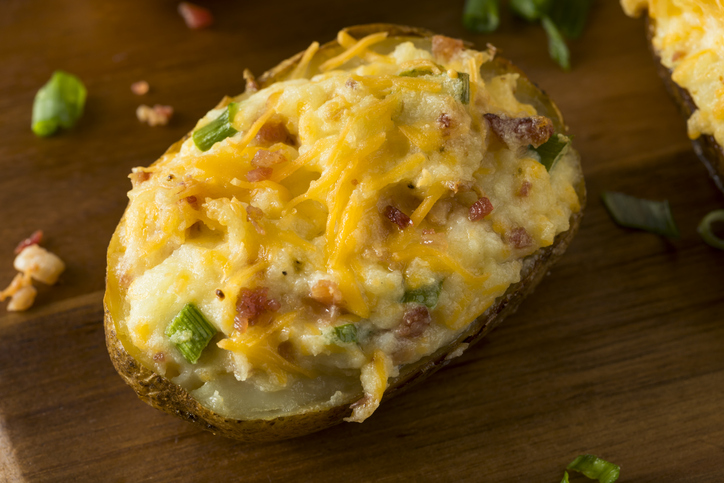 It's always nice to sit down for a nice meal, especially when you've had time to spend some time preparing it. As a matter of fact, in this blog, we've had the pleasure of sharing many such recipes exactly like that for you to consider trying. But the thing is, you ain't always got that much time. So, here are 10 ten-minute recipes to try for all those times you're in a hurry.
Microwave 3-Minute Omelet In A Mug
If this sounds self-explanatory, well, it is. Throw your eggs, whatever veggies or cheese you want inside, and nuke it for three minutes. Look, seven minutes to spare.
Microwave Loaded Baked Potato
This one's more of a 10-ish minute recipe, actually. The cook time is up to nine minutes and thirty seconds, which doesn't leave you much time for the prep and toppings and stuff. Still, it's pretty quick.
Veggie-Packed Cauliflower Rice
You'll be amazed at how quickly you can cook up some cauliflower rice and veggies in a skillet. Toss in an egg and soy sauce and you'll have your own version of fried rice.
Arugula, Tuna, and Avocado Salad
Canned tuna fish really adds a lot to a salad. As a matter of fact, there are a whole lot of things that add to a salad. Avocado. Olives. Dressing. The list goes on and on.
Sheet Pan Turkey Melts
The recipe says turkey, swiss, and white cheddar. It may as well say: "Some kind of meat, some kind of cheese, some other kind of cheese." Either way, it's five minutes in the oven.
Pesto Tortellini Pasta Salad
At first, this one looks like it slipped into the 10-minute recipe listing by mistake. But, it's doable. You won't have a second to spare, though.
Smoked Salmon And Avocado Sushi Bowl
If you're trying to prepare meals quickly, the microwave is your friend. Nuke some rice to get started and then add your no-cook ingredients.
Street Corn Avocado Toast
Start with either leftover corn on the cob or canned corn if you'd rather. But don't count cooking last night's corn on the cob against the 10 minutes.
Black Bean And Corn Quesadilla
It's really anything quesadilla. Whatever non-perishables you have in your house. The assumption here is that you have black beans and corn.
You might also like: How To Stay Warm When Your Car Heater Is Out Of Order
Mediterranean Tostados
Step one, take corn or flour tortillas and top them with chopped salad made from cucumber, tomatoes, green olives, shallots, and parsley tossed in olive oil and lemon juice. There is no step two. Voila – 10 minutes.
Disclaimer: The stock image is being used for illustrative purposes only, and it is not a direct representation of the business, recipe, or activity listed. Any person depicted in the stock image is a model.