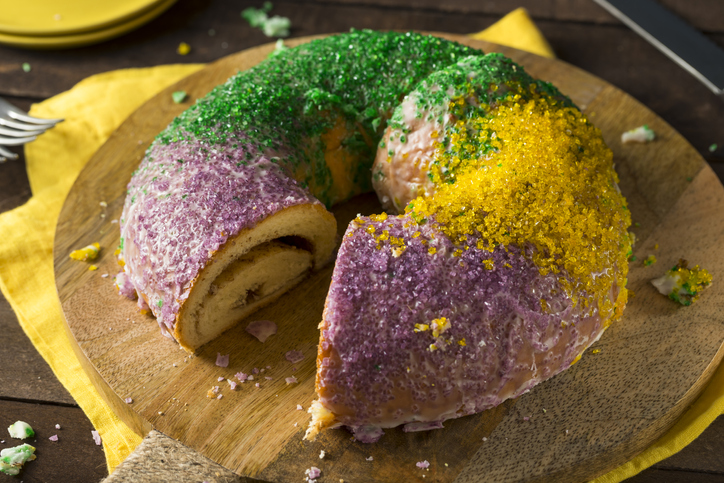 If you are familiar with Mardi Gras, you know what a huge party it is. For example, it's the last day to indulge in big treats and junk food for those who observe Lent. For this reason, it's popular for people to go out in style and enjoy a King Cake. It's extravagant-looking and delicious. However, it doesn't take as much time and skill as you might imagine creating one. In fact, you can make one yourself and serve it for your upcoming Mardi Gras party.
The Basics
This King Cake recipe serves 12 people and takes just 10 minutes to prepare. Moreover, it will only bake for 20 minutes. It yields 213 calories per serving as well. You will also only need a few ingredients for the cake, so it should not take anything less than a novice to make a successful final product.
The Ingredients
Firstly, all you will need for this King cake are the following:
Two cans of store-bought cinnamon rolls (for best results, go with something that has buttercream frosting
Yellow, green, and purple sugar
A plastic toy baby (optional)
Getting Started
The first thing you want to do is preheat the oven to 375 degrees. Secondly, take a cookie sheet and grease it generously. Then place the cinnamon rolls sideways on a cookie sheet. Make sure you arrange them in a circular pattern. When you finish arranging the rolls, they should resemble a flower. You will then want to press down on the rolls to flatten them. However, use caution here; you don't want to press hard, as you only need to flatten them slightly. Lastly, bake the rolls according to the package instructions. This should typically take about 20 minutes.
Put on the Frosting
Once the rolls are done in the oven, remove them and let them cool for a few minutes. Once the rolls have cooled slightly, frost them with buttercream frosting. You will then want to add the sugar by gently sprinkling it on top. For best results, you should serve the King Cake right away. However, you can cover it and store the cake at room temperature for 24 hours. It will taste best if you eat it within a day of making it.
You might also like: Three Books To Add To Your 2023 Reading List
Hiding a Baby
According to Mardi Gras tradition, it is customary to hide a toy doll in the middle of the cake. As Mardi Gras is a traditional Christian festival, the toy baby is a symbol for Jesus. Finding the baby inside the cake is supposed to symbolize prosperity. Placing a toy baby in a King Cake is optional. If you decide to do this, make sure you put the baby in after the cake comes out of the oven.
You can have a little fun this year for Mardi Gras by making this King Cake. Follow this recipe for this year's celebrations and enjoy your creation.
Disclaimer: The stock image is being used for illustrative purposes only, and it is not a direct representation of the business, recipe, or activity listed. Any person depicted in the stock image is a model.